PhotoRec, Digital Picture and File Recovery
PhotoRec is file data recovery software designed to recover lost files including video, documents and archives from hard disks, CD-ROMs, and lost pictures (thus the Photo Recovery name) from digital camera memory. PhotoRec ignores the file system and goes after the underlying data, so it will still work even if your media's file system has been severely damaged or reformatted.
Get it here: http://www.cgsecurity.org/wiki/PhotoRec
Everything Search Engine
Locate files and folders by name instantly.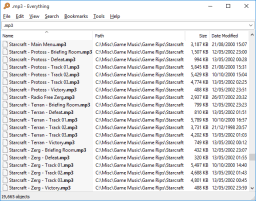 Small installation file
Clean and simple user interface
Quick file indexing
Quick searching
Minimal resource usage
Share files with others easily
Real-time updating
Download Everything 1.3.4.686 for Windows
| | | | | |
| --- | --- | --- | --- | --- |
| | Installer | x86 | English (US) | 463 KB |